This Halloween, the usual late night scary films will be shown on TV, and the annual horror season will take over. Mostly late night films of blood, terror, suspense and gore that everyone enjoys. But there is an audience that cannot be included in these viewings, mostly because they would terrified for weeks, maybe even for their entire childhoods. The demographic is, of course, the young ones; children.
Of course there are multitudes of child friendly TV shows out there that have Halloween specials and have their main characters tiptoeing around graveyards or trick-or-treating gone wrong, but otherwise Halloween for kids seems to be about dressing up in semi-scary outfits, eating novelty sweets and if they're lucky, knocking on one or two houses in their street asking 'trick-or-treat'. Scooby-Doo, from any era has the edge too, always involving people creeping around in strange over the top costumes.
Stories used to scare children are usually based on fairy tales and myths which is what Disney based a few of their short stories on, such as The Legend of Sleepy Hollow and feature length films like The Black Cauldron. Elements of horror seep through into the larger more mainstream films too: the green light leading Princess Aurora to her doom, Ursula stealing Ariel's voice, various characters plotting murders and other characters in life threatening situations but because magic, witchcraft and mayhem comb over the horror, these films are acceptable for children to watch.
Children's horror films are usually seen as tame, for obvious reasons, but there are those that combine the conventional horror genre elements with homage to the classic horror films of the past. These are neatly disguised by the master of macabre, Tim Burton, and the genius Henry Selick, to name the two that brought The Nightmare before Christmas to life. Halloween meets Christmas featuring some terrifying characters as Mr Ooggie Boogie aka The Boogie Man is made up of bugs inside a pillowcase and has henchmen who are demon children dressed up as if they're going trick-or-treating. Playing on the fears of children while entertaining.
Selick's ParaNorman is about a boy who can see ghosts, which is all a bit Sixth Sense until we see what Norman does: lots of ghosts stuck in time who greet him on his way to school, all pleasant and cheery. The wonderful stop-motion animation exaggerates the expressions and stereotypes you'd find in a live-action horror film. Later on, Norman's gift becomes his town's saviour as a witch's curse takes effect. Echoes of Dawn of the Dead haunts the screen, but these are the real zombies – they are slow and easy to outwit, but no less scary, especially to the target demographic.
Another one of Selick's films, Coraline, adapted from Neil Gaiman's novel, was always going have that creepy, disturbing side of the story. It's about a young girl who finds her way to a parallel house where her 'other' parents are more fun and generally better. But in this world, everyone and everything has buttons for eyes, foreshadowing an ominous presence behind the smiles. The fact that the 'other mother' is in fact 'the beldam', a witch, has hints of fairy tale witches who prey on children. With the amount of food she tries to feed Coraline, Hansel & Gretel comes to mind and the witch in the gingerbread house. The house itself plays a vital role, not quite haunted but the where the house is situated, it might well be hinting that it's on an ancient Indian burial ground.
Tim Burton's Corpse Bride, based on a 19th Century Russian folktale that has its roots embedded in anti-Semitism, the story of a man who is about to get married but accidentally says his vows to a corpse who rises up from the dead, is a grim story. With songs about murder, death and the dead rising up to walk the Earth once more is something only Tim Burton can do.
His later stop-motion animation, a feature-length version of his short live-action film about a boy who brings his dog back to life Frankenstein-style, and the consequences of his actions, is in some ways terrifying, but also a love letter to classic horror. The film is in abundance of references to the classic Hollywood horror and monster films like Bride of Frankenstein, The Wolfman, Godzilla and even his own films like Sleepy Hollow. These references will be lost on the children watching, but the heart of the story is about a boy who loves and misses his dog he decides to bring him back from the dead. This is also the savouring subject which is touched upon in the film when a science teacher is fired for teaching the science behind this miracle. It is a homage to classic horror, being even made in black and white, making this more of a lesson in old cinema rather than a terrifying experience.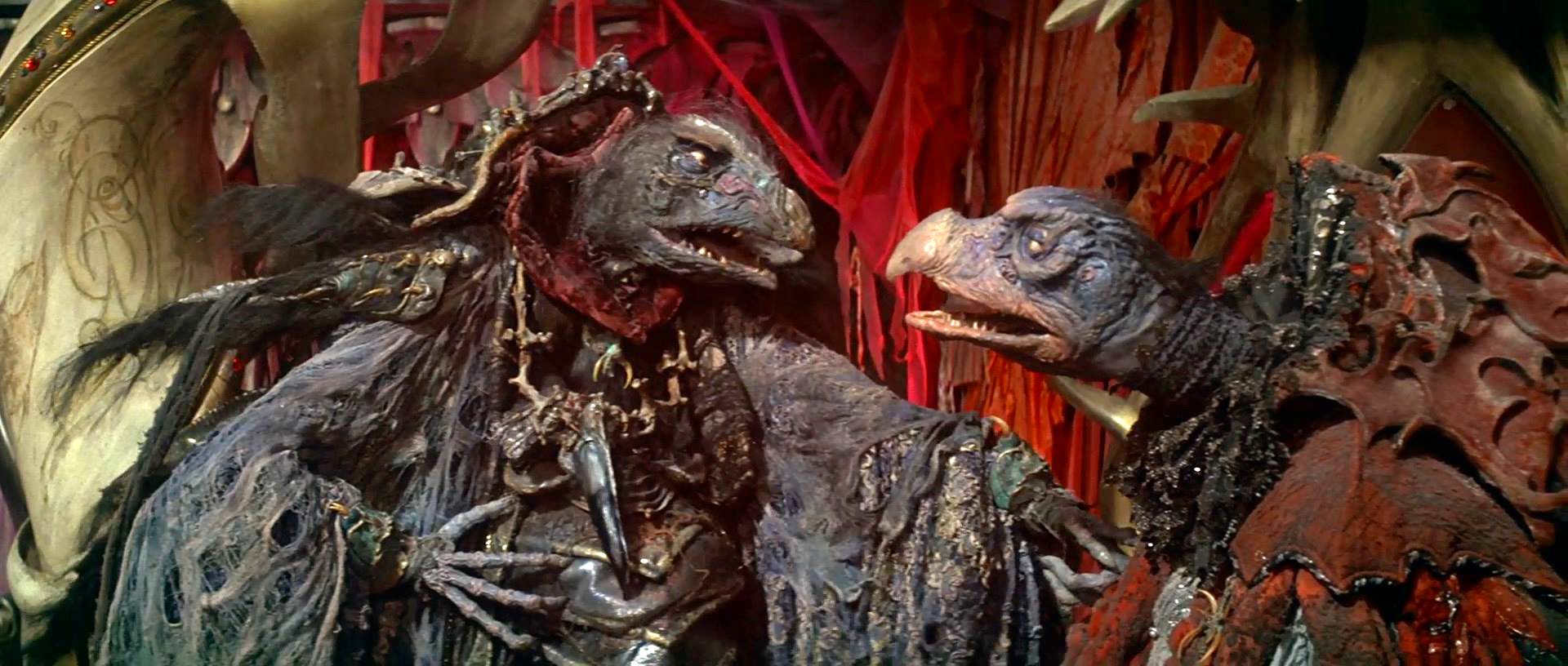 Animation aside, live-action films such as Road Dahl's The Witches, Something Wicked This Way Comes, The Hole and Hocus Pocus are meant to be all in good fun, but play on fears that children and teenagers would have. Witches and witchcraft will always plague the young as everyone fears the witch in the woods thanks to countless stories about the 'evil' beings from fairy tales. But where these can be comedic, sinister and sometimes just terrible, animation can delve deeper into the imagination and create visions that just isn't the same with live action. Puppets on the other hand can terrifying as well as endearing. Gremlins in particular has the terrifying feeling of monsters (except for Gizmo) but at the same time, they don't cause deaths, just mayhem and mess. The Dark Crystal is as its name suggests, a dark presence, namely the Skeksis, vulture like creatures that take the life force of the innocence by making them stare at the ominous dark crystal. Watching these scenes as a child is distressing. Being a fantasy film with puppets, it looks from the outside a fun little film but the film includes kidnap, torture, death and destruction as well as the extinction of a species who are the heroes of the film.
Looking deeper into children's horror films, there are deeper meanings because adults are watching these too, but the harsher realities are there in place to have people revisit these films as adults. Nothing is as innocent as it seems.
Rakuten TV are pleased to announce their child friendly Halloween movie catalogue, suitable for all the family to enjoy this half term. Available to own from just £3.99, titles include Halloween classics such as Hocus Pocus, The Haunted Mansions and Addams Family Values in addition to critically acclaimed movies like Monsters Inc., Miss Peregrine's Home for Peculiar Children, The Spiderwick Chronicles and Stardust. The promotion runs from 23rd of October to the 11th of November inclusive. All will be available on Rakuten's TV Video on Demand service, which can be accessed through all Smart TV's, tablets, PC's and consoles.
Children's Halloween Movies Available include:
Monsters Inc.
Hocus Pocus
The Nightmare Before Christmas
Descendants
Frankenweenie
The Haunted Mansions
Arachnophobia
Miss Peregrine's Home for Peculiar Children
Lemony Snicket's Series of Unfortunate Events
 The Spiderwick Chronicles
Stardust
Super 8
Monster Island
Paranorman
Monster High: Ghouls Rule
Goosebumps
Addams Family Values
Save